For recent 2020 news and "heads up" information for 2021, click here to read our second newsletter – the Christmas 2020 edition. It also includes details about our new Chair, Adrian McDowall, and new trustees, Idris and Zara Crumlish.
Cycling Without Age Scotland appeared prominently in a feature in The Herald of 24th December 2020 headlined:
"How bravery, generosity and ingenuity united a nation!" Click here to read a recent article published about Cycling Without Age Scotland. This is about us introducing an extension to our fleet or, as the Perth Courier put it:
"New all-terrain cycle will help Perth inclusivity group conquer new ground"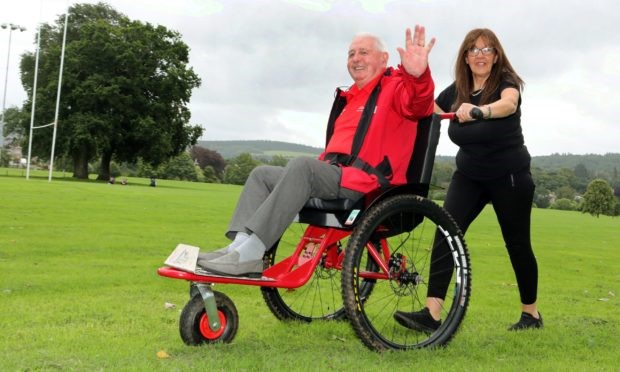 Two other articles demonstrate that, even in COVID-19 times, Cycling Without Age Scotland continues to play its part and serve its communities. The first, in the Falkirk Herald, shows the commitment of the Denny and Dunipace Chapter during lockdown: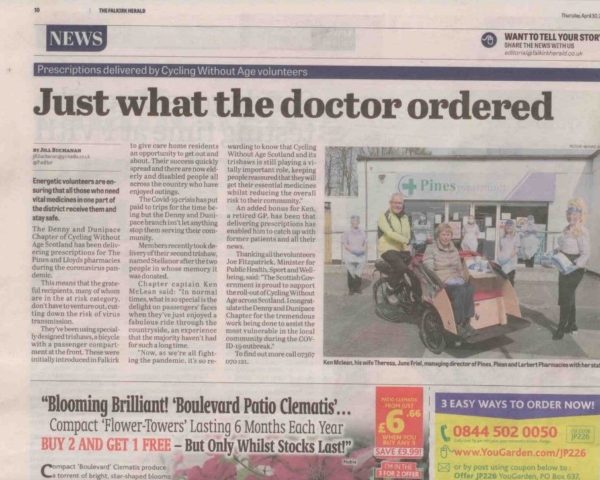 The second, in the Perth and Kinross Courier (link below) shows how, like many other areas, Chapter members are not just spreading the word and making what we offer available to even more people, but are gearing up for post-Lockdown activity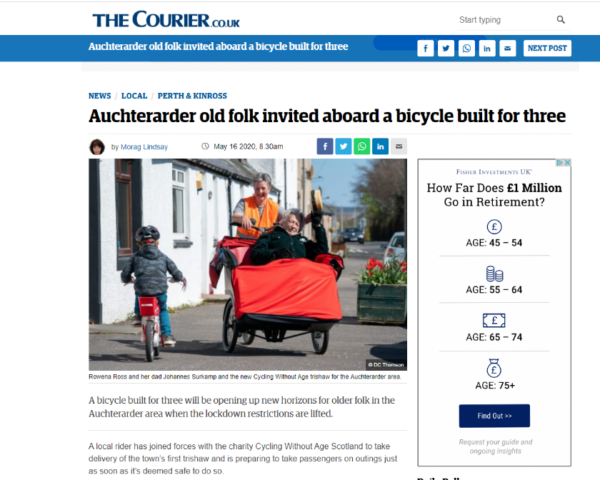 Click here to read the story.
You can see other examples of media interest in Cycling Without Age Scotland on pages 44 and 45 of our last Annual Report here.
Annual Summit 2019
One of our most exciting items of news in the past year was our Cycling Without Age Scotland National Summit weekend, based at the Falkirk Stadium, at the end of August 2019.
The summit achieved a whole range of "firsts" – from the first time that Chapters from all round the country, as well as from Ireland and the USA, had gathered to get to know and learn from each other (as well as from specialist experts in a wide range of fields) to the first time in the UK that more than 20 Trishaws – and 60 people – had taken part in a "long ride" of more than 20km.
Workshops and presentations covered a wide range of topics, from batteries (an absolutely key element in successfully keeping Trishaws on the road) to using hoists safely to move passengers into the passenger 'tubs' and exercises to maintain pilots' and passengers' mobility and flexibility. There were also sessions led by Cycling Without Age Scotland's specialist technical and maintenance consultants, GM4X, in all essential elements of Trishaw mechanics and maintenance.
It was an extremely sociable weekend too, with the wonderful spirit of camaraderie encapsulated in dinners and entertainment – led by Trustee and superb musician, Robin Miller – at Glenbervie Golf Club, where Cycling Without Age Scotland has its Head Office.
Sunday 31st August saw the extraordinary "Long Ride" as more than 20 Trishaws set off on a spectacular 20-kilometre journey along the beautiful banks of the River Carron, lunching at the Falkirk Wheel, with the ride culminating at Falkirk Football Stadium … via The Kelpies: all sights to treasure. If one journey demonstrates the joy that Cycling Without Age Scotland trishaw rides can bring, and that these amazing vehicles can go just about anywhere – street or path, town or country – this was it. Our video above tells the story and captures the brilliant feeling of the weekend.
Perhaps most extraordinary of all was the weather! It rained and was windy and chilly right up to the Sunday morning but, from the start of the ride to its conclusion, we were blessed with beautiful sunshine, warmth and bright blue, cloudless skies.
This was a major undertaking, and could not have been achieved without the generous support of so many people and organisations, including: Glenbervie Golf Club; Gordon Cullen of Easygo Cycles; Falkirk Football Club and Stadium; Gordon McGregor of GM4X; Joan Purdie of Newcarron Court Care Home; Police Scotland; The Falkirk Wheel; Lee Kelso of The Scottish Care Inspectorate; and of course all the delegates who joined us for the weekend.
Huge thanks, too, to Miller Crossan for donating the use of its "I'm Cycling Without Age" music track to make our video even more special.