Supported by


We're thrilled that, as COVID restrictions are being lifted, our rides are starting up again and momentum is increasing every day! We're hugely impressed by the energy and commitment of our volunteers who are achieving this, and very grateful for the enthusiastic support of many care homes. We're also extremely pleased that, while the pandemic recovery situation remains so fragile, everyone involved in Cycling Without Age Scotland's activities is prioritising safety, which is always our No.1 objective.
We're delighted to announce our first "Trishaws In Iconic Places" Chapter at Helix Park, Falkirk. Find out more about it and its official opening here.
Packed with heart-warming and inspiring stories and pictures, our latest Annual Report is now available: click here.
Also recently published is a Research and Evaluation Report, independently carried out by The Ageing Lab at Heriot Watt University, which gives a fascinating insight into the impact Cycling Without Age Scotland is having. You can access it if you click here.
You can also access our latest financial report (To 31st March 2020), if you click here
Our 2020-2021 Annual Financial Report will be published at the end of this year. 
Our Spring Newsletter is available now, if you click here.
Our Story
In the very short time since CATCA (Communities Along The Carron Association) led the introduction of Cycling Without Age into Scotland in 2017, the intensive year that followed when we were piloting the scheme with the hugely committed and enthusiastic Carrondale Care Home in Carronshore and our organisation's official launch at the end of May 2018, we have become one of the leading country representatives in this global project, which is currently operating in more than 50 territories around the world.
Cycling Without Age is a movement started in 2012 in Denmark by Ole Kassow and Dorthe Pederson. Ole wanted to help the elderly get back onto their bicycles, but he had to find a solution to their limited mobility. The answer was a trishaw. He started offering free rides to the local nursing home residents … and the rest is history!
Cycling Without Age Scotland now generates "miles of smiles" in every part of Scotland and its reach and impact are growing every day. It enriches and enhances lives, unlocks doors, enables older people to once again be an active part of their communities, once again to "feel the wind in their hair", to rekindle old friendships and to make new ones and to rejoice in heart-warming stories. This is unparalleled access, which we also provide to disabled people.
Wide-spread recognition of our work includes that by the World Economic Forum which highlighted our innovative solution to loneliness.

Generously supported by the Scottish Government, the only country in Cycling Without Age's international portfolio to receive central government funding for a national roll-out, and with further support from more than 50 other organisations and individuals, Cycling Without Age Scotland has gone from strength to strength. With more than 50 "Chapters" (branches) at different stages of development and operation, it is now present in almost every part of Scotland. More than 27 local authorities are participating in the project, which has already provided almost 29,000 rides to approximately 43,500 passengers through the generous support of more than 2,400 volunteers – passengers and pilots alike enjoying around 33,000 miles of every type of landscape, including some of the most beautiful that Scotland has to offer.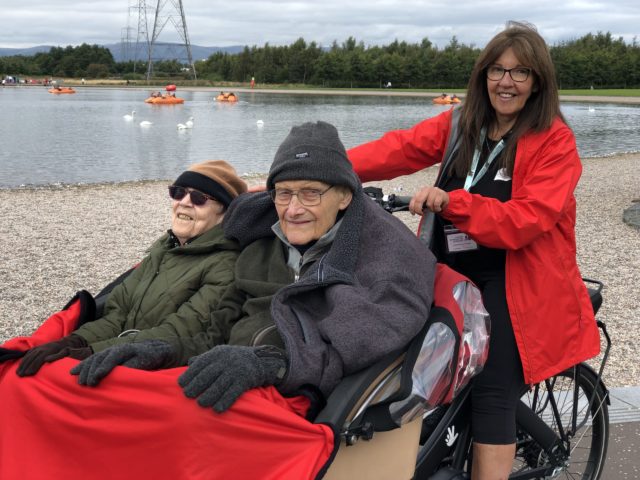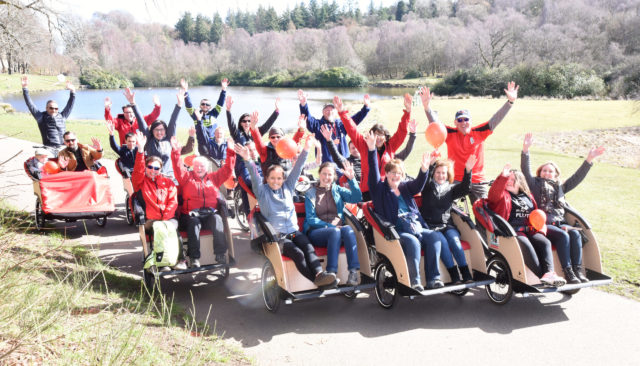 Our ambition is clear: to be a major presence in EVERY part of Scotland.
There are many factors that make Cycling Without Age Scotland a leading country representative of the global movement, not least being the unrivalled technical and mechanical service that we provide to all our Chapters, as well as fundraising, marketing, publicity and governance advice and support, insurance and banking facilities.
Trishaws in Iconic Places
The three videos on this page capture the story. The first video captures how we have celebrated the launch of our 'Helix' Chapter and the second one is the story of the National Summit held by Cycling Without Age Scotland in August 2019, including a "long ride" featuring the largest gathering of trishaws ever seen in the UK. The third one is BBC 3's "Amazing Humans" which demonstrated the impact Cycling Without Age Scotland was already having in its comparatively early days.
Please look through our site to see what we do, with whom and for whom, who is supporting us and, most importantly of all, how YOU could get involved – and make a real difference in a completely different and unique way.
Coffee friends
Chapters with trishaws
New chapters fundraising for trishaws
Trishaw mechanics